Hello, savvy shopper. All good things must come to an end, and unfortunately our Black Friday and Cyber Monday deals have finished for this year.
Still looking for amazing offers? We've got you covered with big names in dresses, footwear, knitwear and more, plus gorgeous Beauty and Home savings you'll want to snap up quickly.
Explore our top deals now.
When is Black Friday 2021?
Black Friday is on Friday 26th November 2021 but you'll find lots of offers during that week as well as Cyber Monday on 29th November 2021.
Why is it called Black Friday?
The name 'Black Friday' is said to have originated in the US mid 20th century when businesses recorded positive sales (in black rather than red ink) for the first time after years of negative sales due to the financial crisis. In the 1950s, there was a sports event the day after Thanksgiving where the local public and tourists took to the streets. Although there was chaos, there was also plenty of shopping.
Can Black Friday items be returned?
Whether you buy our products on Black Friday or out of sale, you can return them within 28 days of purchase. Please see our Returns policy for full information.
How long is the Debenhams Black Friday sale on for?
You will find a range of offers during the Black Friday week and not just on the Friday. Don't worry if you didn't manage to grab a deal during this time - Black Friday is quickly followed by Cyber Monday.
What should I get for Black Friday?
We'll have unmissable deals to get your hands on this Black Friday, from fashion like Black Friday dresses to home, beauty and gifts. With exclusive plans and programs such as the Debenhams.com Beauty Club and UNLIMITED delivery the perks just keep getting better. Start shopping gifts now to start the excitement.
Are Black Friday deals worth it?
Black Friday sales are the most anticipated sales of the year, so yes! They're great for gift shopping ahead of Christmas and often boast the biggest discounts of any season.
Does Debenhams have Black Friday sales?
Yes we have our main sale on Black Friday, plus great offers in the lead-up and on Cyber Monday. We also have some amazing deals ready to snap up right now, so check them out before they're gone.
What is Cyber Monday?
Cyber Monday is a term in marketing used to refer to the first Monday after the Thanksgiving holiday that is celebrated in the United States and it is a whole day online shopping event. The origin of Cyber Monday is much more recent compared to Black Friday, with the term being popularised in 2005.
When is Cyber Monday?
Cyber Monday occurs on the Monday following Black Friday weekend. This year it will fall on Monday 29th November in the UK. Cyber Monday is one of the final opportunities in the calendar to get major discounts on items and gifts before the Christmas season arrives.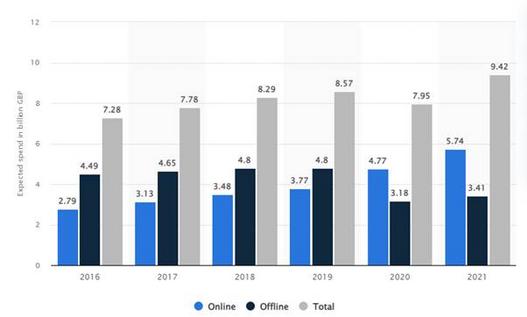 Black Friday sales were projected to rise in 2021 in relation to 2020, as detailed by Statista. In 2021 £9.41bn was expected to be spent in total which is more than the previous 5 years, with £3.41bn of this to be spent in stores. This rose from the previous year due to fewer physical restrictions relating to COVID-19.
According to The Guardian, an article published on the evening of Black Friday 2021 stated the UK experienced its biggest Black Friday sales ever, with consumers on track to spend almost £9.2bn on the weekend, 15% more than what was spent in 2020.